https://stanta.co.uk/events/wentas-top-40-tips-to-start-your-business-2/
Time: 10:00am - 12:00noon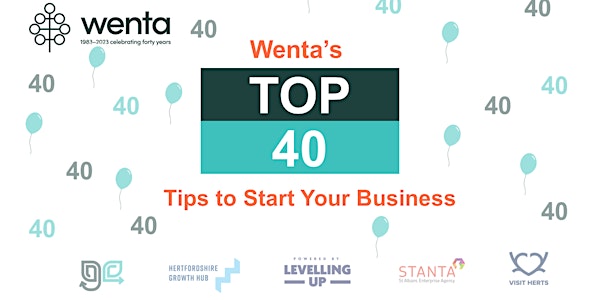 Here at Wenta, we have been supporting businesses in Hertfordshire for 40 years and we want you to join in with our celebrations.
We have put together our Top 40 business tips to mark our anniversary and will be hosting two virtual sessions. This session will be for those of you in start-up mode and we have another session in the afternoon aimed at those of you with a business that is already trading that you want to grow, which you can book here.
Our Top 40 tips will be presented to you in a fun and relaxed online environment and will be delivered by our team of highly experienced Business Advisors. We will also be including insight from our key partners and stakeholders to ensure that you get some expert advice that will really help you move forward.
Topics covered will include…
Marketing
Business Planning
Time Management
Being better at sales
Company formation
Financial Planning
Growth strategies
And many more….
Your presenters on the day will include…
Matt Cheevers – Wenta Net Zero & Growth Advisor
Background – Matt spent 20 years in business working for and leading a range of companies including Eurostar, Lastminute.com, Teletext Holidays and Voyage Prive
Expertise – Growing a business, Marketing, Business Planning and Sales.
Favourite song – Easy by The Commodores
Carol Allen – Wenta Net Zero and Business Advisor
Background – Carol is a former Principal and has spent 25 years in further education, owning her own educational training academy and working Government and Private contractors to deliver science based courses. She has owned three successful online businesses.
Expertise – Online Marketing, Coaching, Creating educational courses and Presentations.
Favourite Song – Jerusalema By Master KG
Bhups Chauhan – Wenta Net Zero and Business Advisor
Background – Bhups has 30years experience in running his own businesses mainly in the travel industry.
Expertise – Websites, Social Media and Technology
Favourite Song – Ain't Nobody by Chaka Khan and Rufus
Michael Cheung – Wenta Net Zero and Business Advisor
Background – Michael has over 15 years' experience in the field of Business Finance on a number of local and national programmes; helping with start up support, applying for start up loans and creating Year-end accounts. Helped to run a family catering business.
Expertise – Start-ups, Mentoring, Business Planning and Cash Flow Forecasting.
Leandro Eusebio – Wenta Business Triage Assessor
Background – Leandro has a background in business banking having been a Business Manager previously and various other customer service related roles.
Expertise – Banking, registering a business and start-up guidance
Favourite Song – Ain't No Mountain High Enough by Marvin Gaye and Tammi Terrell
Mick Dobson – Wenta Net Zero and Business Advisor
Get Enterprising is a Hertfordshire Local Enterprise Partnership programme, delivered by Wenta, that supports stat up businesses and early-stage businesses with an ambition to grow.
We look forward to seeing you on this informative webinar!
The webinar will be recorded, however, having your Camera and microphone on is optional.
Data Collecting:
Information collected here will be processed by Wenta and shared with our programme partners such as Hertfordshire LEP, and your local authority Ministry of Housing, Communities and Local Government for programme data reporting purposes only. Data that is collected here will be used to provide further business advice and support information to you. Please visit Wenta's Privacy Policy for more information.
If you do not wish for your data to be used for marketing purposes such as the Wenta Mailing List, please ensure you do not select the relevant box for the Mailing List 'opt-in'.
Data Sharing:
We have data sharing arrangements in place with programme and contract partners such as Hertfordshire LEP, your local authority and Ministry of Housing, Communities and Local Government, who we work with to provide certain services to you. Under data sharing arrangements, certain personal information is shared for a specific purpose. The local authority or organisation receiving the information must only use that information to carry out that specific purpose, and keep your data safe and secure. Please visit Wenta's Privacy Policy for more information.